Hey!
TP RAWKS!
BLUE RRAAAAWWWKKKKSSSS MORE!!!
Haha.. jus came back from TP Rawks!! The event really rawks man!! Not only did the 'freshie' know more about TP... i know more too:)
Went to a IT course and took those photos...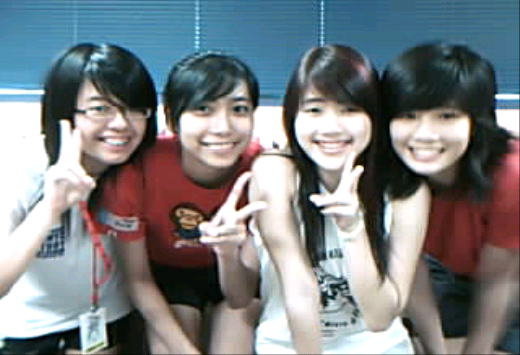 Me, clammy, jiamin and wati
Making so many new friends and having so much fun.. I dun mind being tired at all!!
Tis a cheer i really love..
H is for Hady
We love Hady
If you wana be like him
Jus come TP!
Haha.. really.. TP is the most happening place on earth!!
3 cheers to 'freshie'.. PLs and all invovled.. HIP-HIP HORRAY!!
Kkz.. actuali my eyes hav been 'seeing stars' tis 2 days... tink im going to rest now.. tml still got cheerleading camp!!
Update again soon!!
Btw.. HAPPY BIRTHDAY CHANG YU!!!