Hey!
Im feeling a bit disgusting now... guess what I ate for today? Roti-prata and curry puff for breakfast... 5 slices of bread with nutella for lunch... 2 packs of JIGS crackers and valina Yam-yam for dinner... My body feel so weak without any nutrients... I can feel all those junk food burning a hole in my stomach now!!
Today was another great day:)
10.30am
: Went dentist... YESAH!!! NO NEED TO PAY EXTRA $$$$$$$$... hee... put red and white and its kinda cool:) But my lower jaw is a bit painful now coz the dentist tied 1 band to 3 rings instead of to 1 ring... so its quite tight now....
11.25am:
Im on the train on my way to church... and I think Singapore power sia!! Besides being a mutil-racial and mutli-religion country... we can become a mutli-national country soon... I was standing near the door... on my left is a 5 handsome
angmohs
in their 20s... on my right is 2 muscular
africians
... infront of me is 3
jap
boys in their early teenage and behind me is a grp of girls speaking duno what language(from
mongolia
mayb...).. It was quite shiok surrounded by so many diff ppl but its also kind of noisy becoz i dun understand wat they toking about...
11.45am:
Went church to discuss about church camp stuff and did publicity... came out with the title of our church camp and I tink its cool:) Heres my pic for the publicity..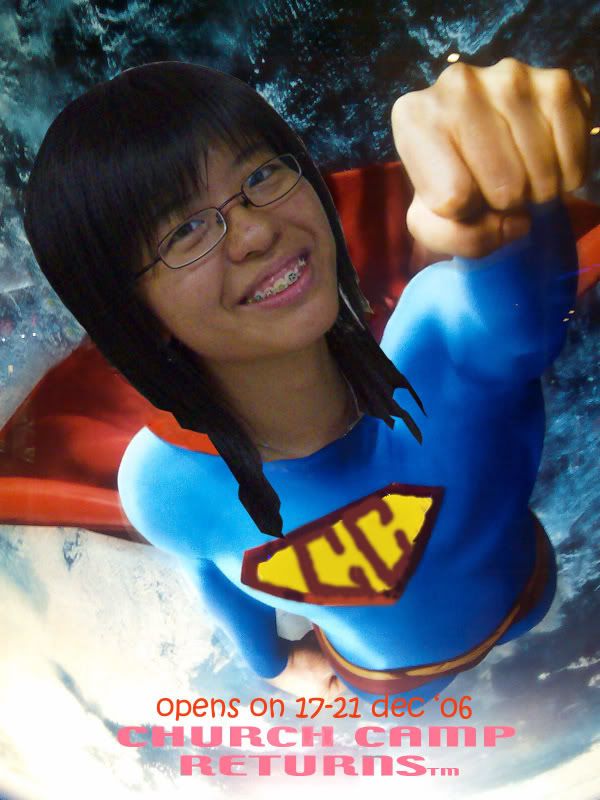 Haha... cool rite!! Thanks Joyce for editing:) Sorry im a bit tired to upload all the photos tt we did for publicity now... u can check it out on my sis blog..
http://purplecool.blogspot.com/
or i upload it some other days ok:)
4.30pm:
Reached Indoor Stadium for FOP with Lizhen, Serene and XinLan... The weather was VERY hot... We were melting!! But all our sweat was worth it coz DON MOEN WAS SIMPLY TOO GREAT!! Hes so attractive and talented!! Haha.. I like Ed Silvoso quote "I love you and theres nothing you can do without it" 4 of us said to each other and it feels great:)
9.30pm:
Me and Lizhen left without hearing CCC band perform coz we r kind of tired... Walked all the walk from Indoor to Kallang mrt and we chatted a lot... about cant believe we are 17 yrs old now.. feel more like 14 yrs old... Time passes so fast.. we know each other for 10yrs liao(?)!! And aso about Lizhen being a worship leader in sch... its so cool lor.. sometimes i wish i can play the drumset, guitar or piano... Mayb i can go learn it for one of my NYAA skills:)
12.48am:
Haha.. im blogging now... listening to all the nice songs kahang sent me.. send me nice songs everybody!! But im feeling quite terrible now.. headache, gastric and feel like vomitting... kkz.. tink i better go rest... see ya:)